Building an iOS App Around an API?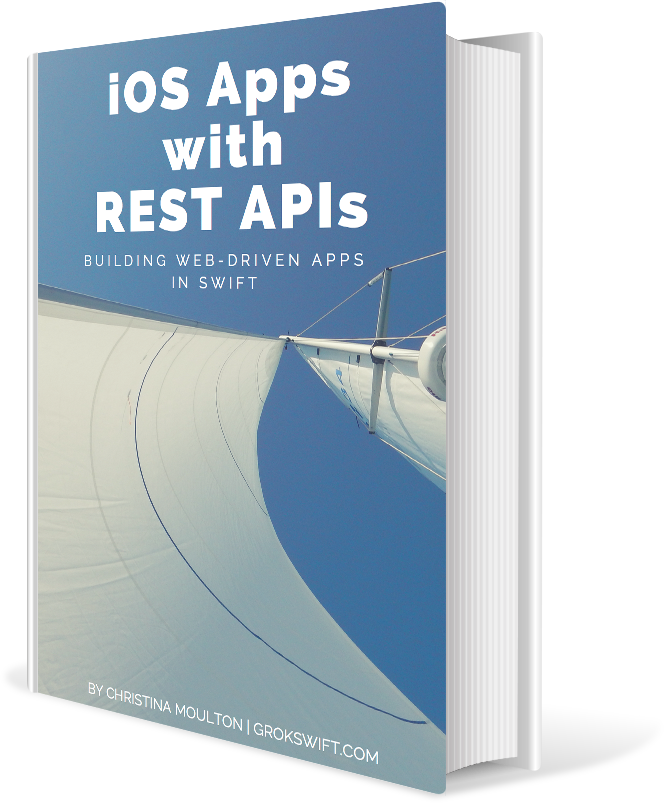 Making your first Swift app that uses a web service can be overwhelming. It seems like every time you try to figure it out you just add more things to learn to your list: REST, Alamofire, parsing JSON, OAuth, App Transport Security, setting headers, … But it doesn't have to be confusing.
With iOS Apps with REST APIs skip the hundreds of pages that barely get into how to make a network call in iOS. No esoteric details about Core Anything or mathematical proofs of flatmap. Only the nitty gritty that you need to get real work done now: interfacing with your web services and displaying the results in your UI.
What Will I Learn?
Right after you purchase iOS Apps with REST APIs, you'll get all the information you need to build your first web service backed Swift app. Here's what's covered in this 234 page ebook:
1. From JSON API to Swift App
2. Our App's Requirements
3. Swift JSON Parsing & Networking Calls 101
4. Why I Use Libraries Like Alamofire
5. Hooking Up a REST API to a Table View
6. Custom Headers
7. Loading UITableViewCell Images from an API
8. Pagination, a.k.a, Load More on Scroll
9. Pull to Refresh
10. Authentication
11. Switching Lists
12. Switching Between View Controllers & More JSON Parsing
13. Adding More API Calls: Starring
14. Deleting and Adding Gists
15. Creating Gists and Clearing the Cache
16. What if They're Offline?
17. What Next?
18. Appendix: A Brief Introduction to CocoaPods
This book is for
Software developers getting started with iOS but experienced in other languages
Front-end devs looking to implement native UIs for iOS apps (no CSS, oh noes!)
Back-end devs tasked with getting the data into the user's hands on iOS
Android, Windows Phone, Blackberry, Tizen, Symbian & Palm OS devs looking to expand their web service backed apps to iOS
Anyone whose boss is standing over their shoulder asking why the data isn't showing up in the tableview yet
This book isn't for:
People completely new to programming, you should have a decent grasp of at least one object-oriented programming language or have completed several intro to iOS tutorials
Designers, managers, UX pros, … It's a programming book. All the monospace font inserts will probably drive you crazy.
Cross-platform developers dedicated to their tools (including HTML5 & Xamarin), this is all Swift & native UI, all the time
Programmers building apps with no webservice interaction
Game devs
I have pretty much used code and examples from every chapter. I have always been a Microsoft developer and only recently gotten into iPhone development. Your book is exactly what myself and my team needed to get started. Every example was relevant to what we needed for the application we are developing. Thank you for the fantastic job and I am looking forward to the update to the book and all future writings.
Igor Shpak, Director, North American Regions Applications, at Estee Lauder Companies
What version of Swift does it use?
The book was written in Swift 2.0, Alamofire 3.1, iOS 9, and Xcode 7. The book comes with free updates.
What formats does the book come in?
When you buy the book you'll get it in PDF, EPUB, and MOBI formats.